Mirage Garden and Gifts is located just 30 miles east of Reno, Nevada off of Interstate 80 in Fernley, Nevada. The address is 350 E. Main Street. When traveling east on I-80, take Exit #46/US 95Alt. Continue on 95A through downtown Fernley. The store is across from the new Post Office being constructed.
The Gift Shop has a variety of unique items arranged in attractive displays. Some of the items that the store has are jewelry, bath and body products, home furnishings such as wall plaques, decorative plates, candle holders, unusual lamps, clocks, mirrors, tables, coat racks, vases, picture frames, etc. The store also carries Tuscany items including a variety of wall and floor wine racks. Additionally, for gift giving the store has a variety of figurines and novelty items including Amy Brown fairies. An assortment of wind chimes are always on hand. Unique baby and children's gifts are also available. Mirage has some great Greeting cards and we will wrap your gift(s) FREE.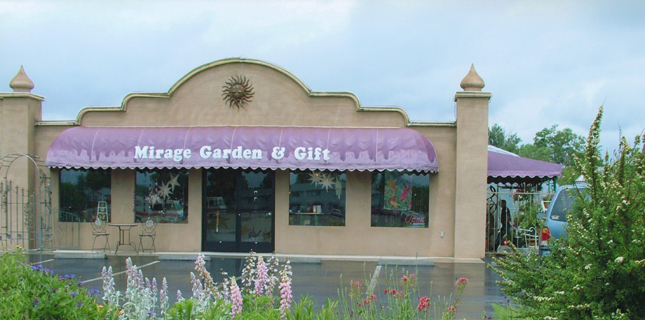 We also have several items that are handmade by local artists. Some of the items are rope baskets, hand painted western goblets, candles and mugs, hand painted furniture and more. We carry hand made soaps and jar candles that are hand poured. We also have scented oils.
The Store has a full Springtime Nursery which includes trees, shrubbery, bedding plants, (perennials and annuals), vegetable plants and aquatic plants. The Nursery also has garden art including statuary and fountains (for inside and outside) and all garden supplies such as fertilizers, potting soil mix, pots, etc. We can also do special orders. Knowledgeable staff are on hand to help you with your gardening needs and questions.
It is a real treat to visit the store and view the unique and unusual items that Mirage Garden and Gifts has to offer. Please take the time to stop by when you are in the area. New merchandise is arriving weekly so every visit to Mirage will be a new experience.
Thank you for visiting our site. We look forward to seeing you at the store.
(775) 575-6888